I get asked often "what type of camera is best for me to get"? It is difficult for me to recommend a camera system to someone since very much depends upon what they are going to use it for. That is, will they be using it professionally for things like portraits, weddings, sports, etc., or will it be used for family or personal projects. Also, will they be doing video with it as well?
With that said, I'll give you my opinion and what my research has lead me to believe, as well as what my needs would be. First off digital photography equipment, including DSLRs, diminishes in value very quickly. A good example would be my Fuji S3. I purchased it new in 2005 for $2349. plus S&H and sold it recently for $250. Another would be my Nikon D300, which is still a pretty good camera by today's standards but sells for a fraction of what it cost new.
In the film days it was not so. Even old Hasselblads or Mamiya RB/RZ 67s held their value. That is until the digital revolution started.
If you are looking for all the newest features with bells & whistles you are going to pay a premium price. Which is OK if you have the budget or business write-off. And, like purchasing a new automobile, you are getting first usage but at a quickly depreciating value. Since these new digital cameras depreciate so greatly, I am hesitant to spend a huge amount on something that loses value so fast. Prices for most of today's camera's system are pretty reasonable compared to the early days of digital cameras plus, the newer technology is great enough to give great quality images for a long time. Another big advantage is that they also do pretty amazing video, not to mention the huge savings on film, processing or video tape. Something that not too long ago had to be part of the photographic process.
I am still happy with my Nikon D7000 and don't see the need to upgrade to the D7100. However, if I would not have the D7000, I would consider the D7100. I am also a big believer in avoiding lens changes when possible. In my case, I would use 2 or 3 camera bodies on a wedding or portrait session. My assistant/2nd shooter would also be using another camera body & lens, usually a prime lens or we find the 18-200mm to be quite useful in wedding photography.
The Nikon D7000 is still a great camera choice, especially since the price reduction. I was happy to pay $1200 for it at the time. Now, one photographer was telling me he recently purchased a refurbished D7000 for only $599 with warranty and is happy as a clam at high tide. That is an amazing price for something giving you that quality image.
The Nikon D5200/5300 would also be a good consideration, especially if you plan on doing quite a bit of movie work with your camera, since both the D5200/5300 have the Vari-angle TFT-LCD which I really like.
If, I would not own any Nikon gear and I was getting a new camera to use professionally today, I would consider the Fuji X series cameras. For professional use, I would consider the Fujifilm X- Pro 1 or the X-E2. I would probably lean toward the X-E2 since it is the newer of the two.
I recently purchased the Fujifilm X-M1 and absolutely love it. It really makes photography fun again and I can't believe the quality in image sharpness and color that comes right out of that camera, even with the 16-50mm kit lens. I have been testing the X-M1 pretty vigorously lately and the sharpness is amazing. It has the same sensor as the X-Pro 1 and X-E1.
I photographed a few people with beards and you can count the hairs, they are tack sharp. A big bonus of the Fuji X series cameras is also the weight & size. For travel & fun and even any serious personal photographic project, the Fujifilm X-M1 is capable of giving truly professional results. There is also the X-A1 which is similar but with a Bayer sensor instead of the X-Trans sensor that is in the X-M1. Both cameras, however, are outstanding.
To learn more about the Fuji X-M1 see the video below
Fujifilm X-M1 Part 1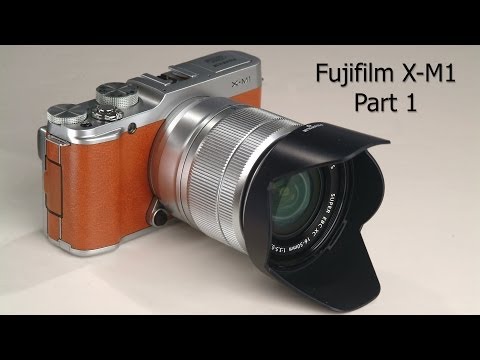 Fujifilm X-M1 Part 2